Now spring is comming to Becket.
Ume trees around the main house are full bloom.
It's very nice to walk around the KI.
We can also see that dandelion flowers come up from place to place.
The contrast of those yellow flowers and the green of the filed is so beautiful.
Deep blue sky..., the sound that woodpecker makes...,
I still wear a sweater to go outside, but I like this season here.
As for the classes, we had a cooking class in this afternoon.
Today's subject was... yes!! "Dessert"!
---
fruit mousse
cous cous cake
amazake pudding
fruit kanten
---
I can't choose the best from them!
We used millet in stead of cous cous for cous cous cake because...
we had a dessert cous cous cake in dinner today.
Every friday's dinner in KI has a fish dish and a dessert.
It was too much dessert but I'm very happy:)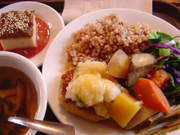 Talking of cooking class,
Noriko-san (Of course, she is a Japanese woman) always assists for the teacher and the students.
She always makes us happy with her personality.
It's wonderful to meet her. Everyone thinks like that, I guess.